Organization Design
Organization design is a quite new area of the HR Management. The organization has to be structured and managed. The healthy organization does not build unnecessary organizational layers and it support the natural flow of informations. It supports making decisions at the lowest levels of the organization and it empowers its employees.
The organizational design is not about drawing the organizational structures and creating job profiles. The design of the organization is the crucial condition for its success. It eliminates double work and makes processes and decisions smooth across the entire organization. The design of the organization connects many HR areas and processes into a meaningful system. The design of the organization is a healthy skeleton allowing the growth of the organization.
The organizational design is the strategic mission for Human Resources. HR has to cooperate closely with the top management and it has to analyze the entire organization as it delivers right proposals for the adjustments. The company has to change its structure constantly as it can cover gaps in the organization and it can use the full potential of different organizational units. Also, find out more about Job Design, which analyzes details of individual jobs.
The design of the company becomes the crucial competitive advantage. The company needs to keep its structure flat and it needs to be present around the Globe. The old hierarchical organizations cannot compete with agile organizations willing to change itself quickly and instantly.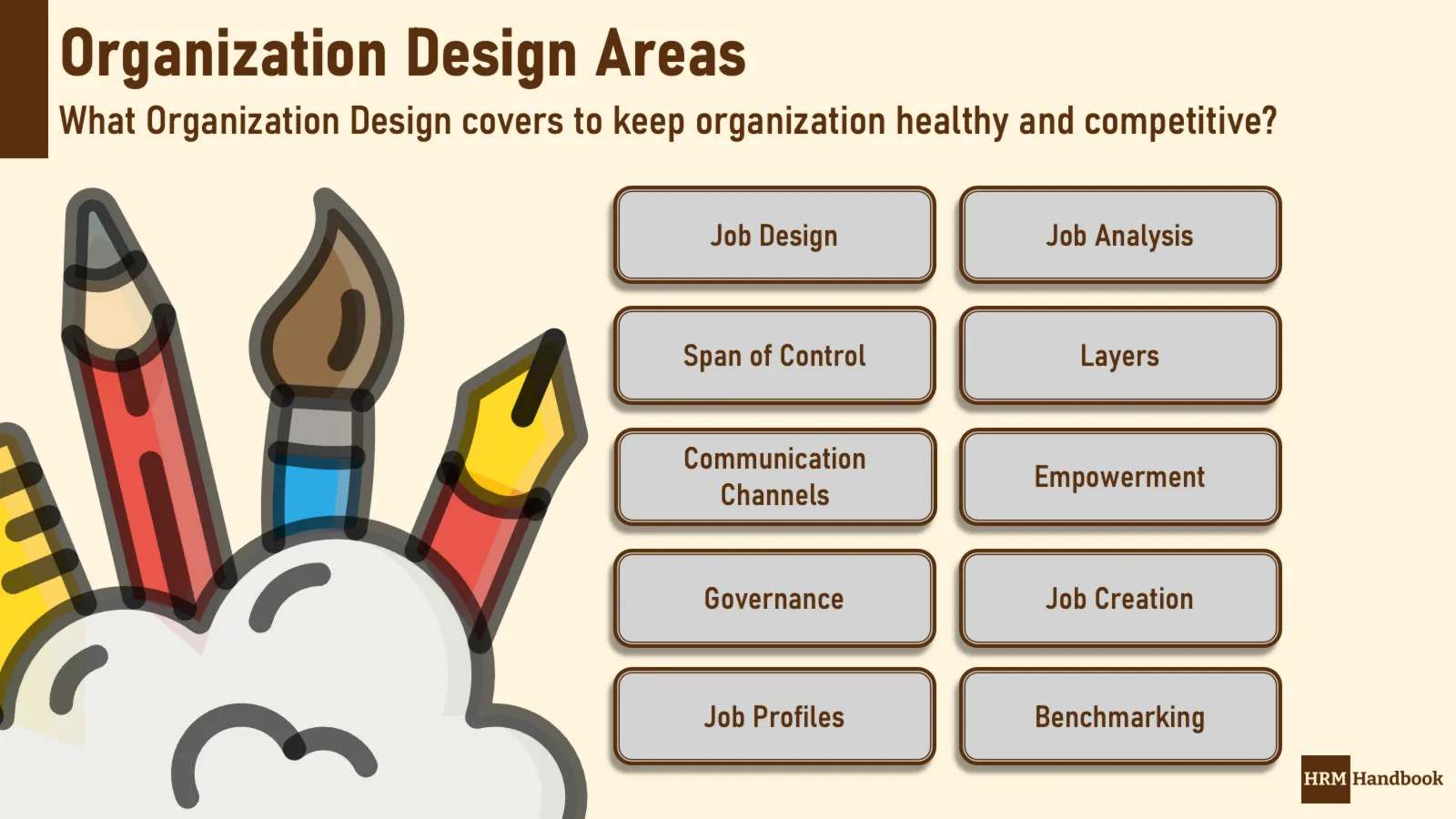 The design of the organization has to be developed with the contribution of Human Resources. HR designs many tools for managers as they can design their units. HR design rules and procedures for the job design; HR runs systems for modeling the organizational structure; HR acts as the change agent; HR has access to employee opinion surveys. HR can definitely deliver value added in the process of designing a new organizational structure.
The healthy organization is flat, empowers employees and has a courage to react to changes in the external environment quickly. It evaluates all changes and it accepts faults made during the process of finding the optimal organizational design and structure.
The healthy organization consists of defined structures, management practices and processes, different compensation strategies and processes and HR Management Practices which are fully aligned. The structure of the organization allows employees and managers work productively and deliver requested results.