High-Performance Human Resources Organization
A high performing business has a thriving competitive business strategy. It also structures the entire organization to support delivering results and explore all market opportunities in strategic areas. Human Resources shares large portions of the business strategy and leads tactical initiatives to support the delivery of ambitious targets. It is what a true Strategic Human Resources Management is about.
A high performing business has a thriving competitive business strategy. It also structures the entire organization to support delivering results and explore all market opportunities in strategic areas. Human Resources shares large portions of the business strategy and leads tactical initiatives to support the delivery of ambitious targets. It is what a true Strategic Human Resources Management is about.
Moreover, the HR team designs and delivers its HR strategy that aligns with all critical business requirements and keeps the function highly competitive and keeping its significant promises. As such, it also emphasizes the importance of an effective organizational structure. It is the structure that allows a smooth delivery of outcomes. It is not just the people in the team; it is also how they are collaborating. Even when designing or updating an effective HR Strategy, the team also has to focus on the structure and dots connecting employees in the department.
An innovative Human Resources function answers strategic questions of the leadership team. It takes over large chunks of organizational responsibilities, helping to grow and cultivate the sustainable business. It introduces engagement programs, develops culture, and hires talents from the external market. To be successful in the mission, it has to structure itself to work as smoothly as possible.
A well structured HR Organization connects different HR functions, clarifies responsibilities, streamlines procedures, and builds the desired foundation of a high performing Human Resources team. Most importantly, making the organizational structure clear is a critical prerequisite, because most HR departments are not designed from the ground up. They have a history, and they already have employees on board. They just need to move them into new roles and define their responsibilities.
Quite commonly, many HR departments build their structures around the people, not around required and mission-critical roles and responsibilities. They do not use the advantage of elaborated processes and streamlined communication channels; they just use the expertise of individuals and their past achievements. It ends as a failure.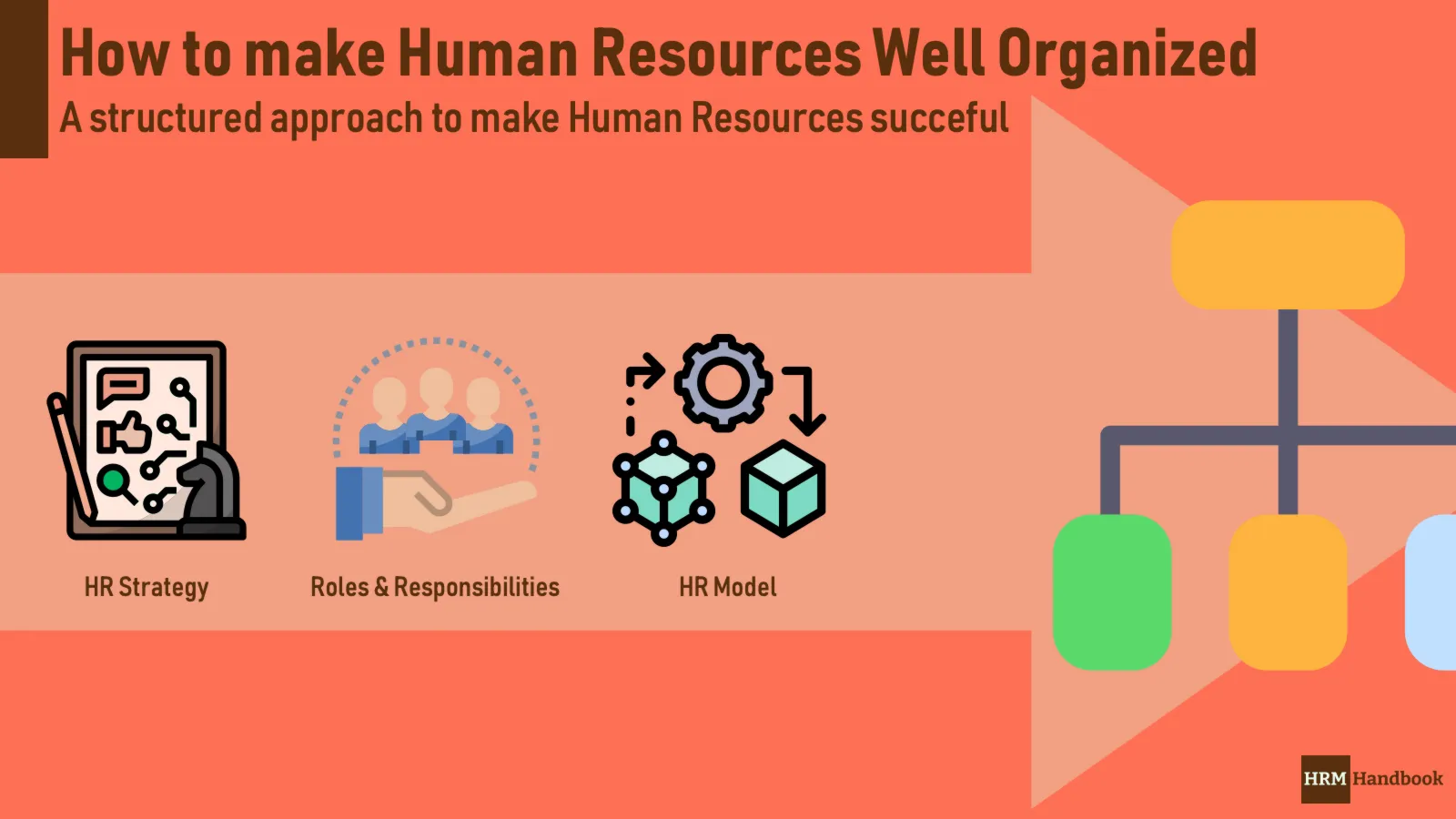 However, enabling high performance is not just about the resources available. It is also how processes and procedures are structured. That is why the HR Model is so important. It is about the clarity of roles, responsibilities, and decision-making procedures. Great leaders recognize that setting ambitious goals and objectives without providing a required infrastructure fails. Employees will disengage, and the leadership team will have no trust.
A high performing Human Resources Function is not just about setting the right competitive values, behaviors, strategies, and processes. To play the role of Human Resources successfully, it has to structure its jobs, tasks, and responsibilities right. A well-functioning Organization Design Principles are beneficial to make the organization work smoothly and maintain effective communication channels. No organization is static; having basic organizational development rules in place is a must to develop managers how they should set up their departments.
A competitive Human Resources Strategy determines the requirements for the organizational structure and organizational strategy of the function. Like any other tactical and strategical plan, it needs strong support from the Human Resources Team. To be successful, the team must work hard and collaborate efficiently and smoothly.
How to design a high-performance HR Organization
Success lies in aligning job profiles, roles, responsibilities, and team organization. Smooth collaboration and being clear about the duties usually bring a significant productivity and performance boost. A successful HR leader always organizes the team to streamline processes and allows employees to collaborate and exchange required inputs almost instantly. The leader takes care of the flow.
There are several critical inputs required to set up the HR Organization right:
a business strategy and a strategic business plan;
an up to date HR Strategy;
the desired HR Model;
outlined HR Processes and Procedures;
and defined HR Roles and Responsibilities.
Worth to mention that there is one more crucial element. The team has to listen to its internal customers when setting its foundations. They should be asked to provide opinions and feedback. In the end, they will be using the services provided by the function, and they will judge its performance.
Keeping their critical remarks in mind will ease many difficult discussions. No one can set up the structure freely and without limitations, and understanding the priorities of customers helps to focus on critical structural elements.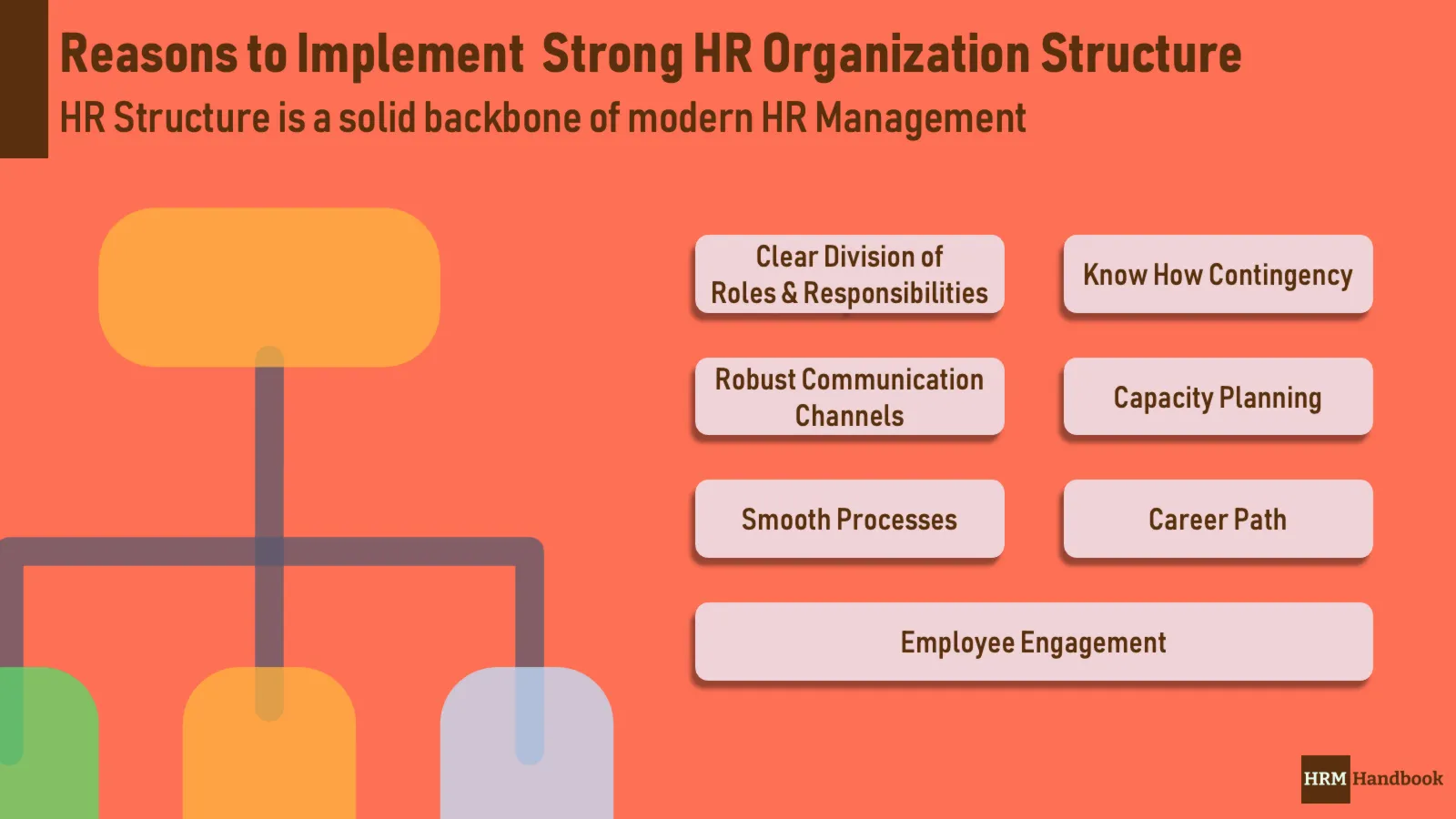 It also requires a right-fit HR Organization. Usually, the least complicated solution works best. Overcomplicated proposals make communication difficult, processes slow, and personal accountabilities blurred. On the other hand, the right structure supports smooth collaboration across units, team members, and internal clients. It cannot stay in a way as an obstacle; it has to navigate everyone to find the right person in the team.
A success story always starts with a challenging HR strategy. However, it is not the only success criteria. It needs resources, the right jobs, and HR procedures to deliver outstanding results. Often, the structure of Human Resources does not support the delivery of the strategy; it stands in the way to successful delivery. We do not put the right jobs in place; we just shuffle employees.
In case you want to learn more about the organizational design theory and critical principles, please, visit Organization Design in HR Processes.
HR Organization as a foundation of a winning HR team
The HR Organization has to reflect all the strategic and operational items mentioned in the previous paragraph. Also, it has to support the team in delivering their personal goals and objectives. Roles should be balanced, and the internal equity needs to be kept.
Also, most mature and well-developed HR functions implement the HR Business Partnering Model. Currently, it is the model of Human Resources that supports the balanced delivery of business objectives and sustainable HR management practices.
How is the Human Resources Department organized and how it delivers its strategic priorities depends mainly on HR Strategy and HR Model. The organizational structure, jobs in Human Resources, and shared goals and objectives reflect what the function wants.
There is no one generic recipe on how to set up the function that it delivers optimum performance. However, there are guidelines on how to avoid significant pitfalls when setting a new HR organizational structure.
Nowadays, the most crucial role and person in Human Resources is the HR Business Partner. They are under enormous pressure because they make the function successful or failure. They keep the relationship with internal clients, and they influence how other business leaders see and feel the performance of Human Resources.
Over recent years, the business oriented HR Business Partner has become a crucial role in the department. She manages other HR functions and defines goals and objectives for them. Also, the HR Business Partner spends most of the time with clients.
Critical questions to design the HR Organization right
On the other hand, an efficient organization needs to be supported by the right job profiles in the structure. It is not just the HR Business Partner; the capable infrastructure needs to be built around them to ensure consistent delivery.
And again, we tend to repeat the same mistake. We build our structures around the people in the organization. We do not prepare the HR Model and spend enough time planning resources. We always have to follow the route, which begins with the HR strategy, and then we should identify essential job roles and profiles.
This section addresses the following critical HR Management questions in setting the team and its responsibilities right:
How to streamline HR responsibilities and processes to unlock the full potential of the team?
What are the most critical goals and objectives of HR functional areas?
What are the crucial and essential jobs of Human Resources to achieve goals and objectives?
What is the typical Human Resources organizational structure?
Answering these critical HR questions helps set up the HR Organization that delivers on its strategy and promises.
Critical Success Factors of the High-Performance HR Organization
Having a great team is always about having critical people in the right spots. They have to ensure that the team delivers on its promises and consistently exceeds expectations. It is not just about the hierarchy of jobs; it is mainly about meaningful and value-adding outcomes that make the business profitable and competitive.
A well-functioning team always elaborates on the HR Model, splitting responsibilities, and making all processes as streamlined as possible.
Three critical success factors are influencing the set-up of the HR team:
job descriptions or job profiles;
critical objectives of HR functions;
underlying principles for HR organizations.
Common HR Job Descriptions
One thing to remember and needs to be mentioned first is the HR strategy, HR Model, and HR Roles and Responsibilities that define what jobs are required in the Human Resources Department. Additionally, the structure of HR jobs needs to address business needs and requirements.
A well functioning organizational structure begins with the right mixture of job profiles. As Human Resources Function evolves, there are more jobs than just HR Generalists and Recruiters. Human Resources Professionals cultivate corporate culture, introduce engagement programs, and watch employees' motivation.
This section is the whole library of the most common HR job descriptions, including the HR Business Partner. Not to forget, it has also offered excellent HR career opportunities to all team members. They have to feel valued, and they have to aim for the next role in the hierarchy.
Critical Functional HR Objectives
Having sensible objectives is an essential part of leadership success. By implementing a proper HR Model, many goals are given naturally to HR functional areas. However, it is always beneficial to make a double-check that no critical aim is forgotten.
This subsection is inspiring when setting goals and objectives for HR functional areas, including the HR Business Partner. Not to forget, it has also offered excellent H). Understanding what Centers of Excellence should deliver and how they should support HR Business Partners is a crucial Human Resources success factor.
HR Department Organizational Structure
You can always recognize a high performing team. Such an organization is not just about the organizational chart and how individuals are connected. Moreover, the hierarchy is not crucial.
It is about values, endurance, and being present with clients. It is about the willingness to win and deliver. On the other hand, organizing the people in the group into a well functioning team is a part of the victory.
This subsection covers details about individual HR Centers of Excellence, including the HR Business Partner. Not to forget, it has also offered excellent H) how they should fit together.