HR Analytics as a Sustainable Competitive Advantage
Human Resources is successfully changing and its role is shifting from administrative support tostrategic management of the organization. However, such a change is unthinkable without quality and smart data support. That's why HR Analytics (often also known as Workforce or People Analytics) is a highly dynamic area of contemporary and modern HR management. Good data and its value-added interpretation contribute significantly to the development of the entire industry.
It is a relatively young part of the HR department and provides a great deal of opportunity for personal development. It serves as an important component in every important decision. It provides important information to top management, pushes the development of technology in HR forward and provides valuable feedback on HR performance.
Just a decade ago, top executives did not expect to receive a regular supply of numbers, information and reports from the Human Resources department on the status, trends and developments in the organization's people. The data was inconsistent and its quality was questionable. The informational value was close to zero and the leadership team did not usually give weight to the data presented in their decisions on how to proceed.
Today, Human Resources routinely works with data, uses modern technology and bases decisions on the right data. Workforce Analytics is a dynamic area of employee management and provides important data and information for management decision making.
A competitive and modern company makes decisions based on facts, evidence and analysis. Each decision brings together data, critical perspectives on the topic from different angles, opinions and a good mix of emotions. HR Analytics cannot predict the future, but it can reveal hidden trends in an organization and highlight unhealthy developments. Of course, it's not 100% accurate, but it can provide a reasonable level of assurance.
In Human Resources, feelings and emotions have always been important. Emotions will continue to be an important and essential component of decision making. However, it is important to look for the right data to support a particular decision, to provide appropriate reasoning for it. It will also determine the future direction of work, projects and initiatives. Without data and its interpretation, further development of HRM is no longer conceivable.
Why is quality HR Analytics important?
Any strategic plan is only as good as its input data and the decisions made in its implementation. Quality input from analysts is vital to good quality HR Planning and they must deliver accurate data on employee demographics, turnover trends, salary information and estimate labor productivity trends. In addition, they must link all of this to available external information. A successful HR strategy cannot exist without good and continuous analytical support.
Today, only a company that is constantly changing will succeed. It embraces change as the norm and everyone contributes to the fact that the organization is evolving. Of course, even in such a company, it is important to have anchors to latch on to when change occurs. And that's the role of HR Analytics. To provide the data that will help anchor each incremental change. To understand their impact and adjust the way forward if necessary.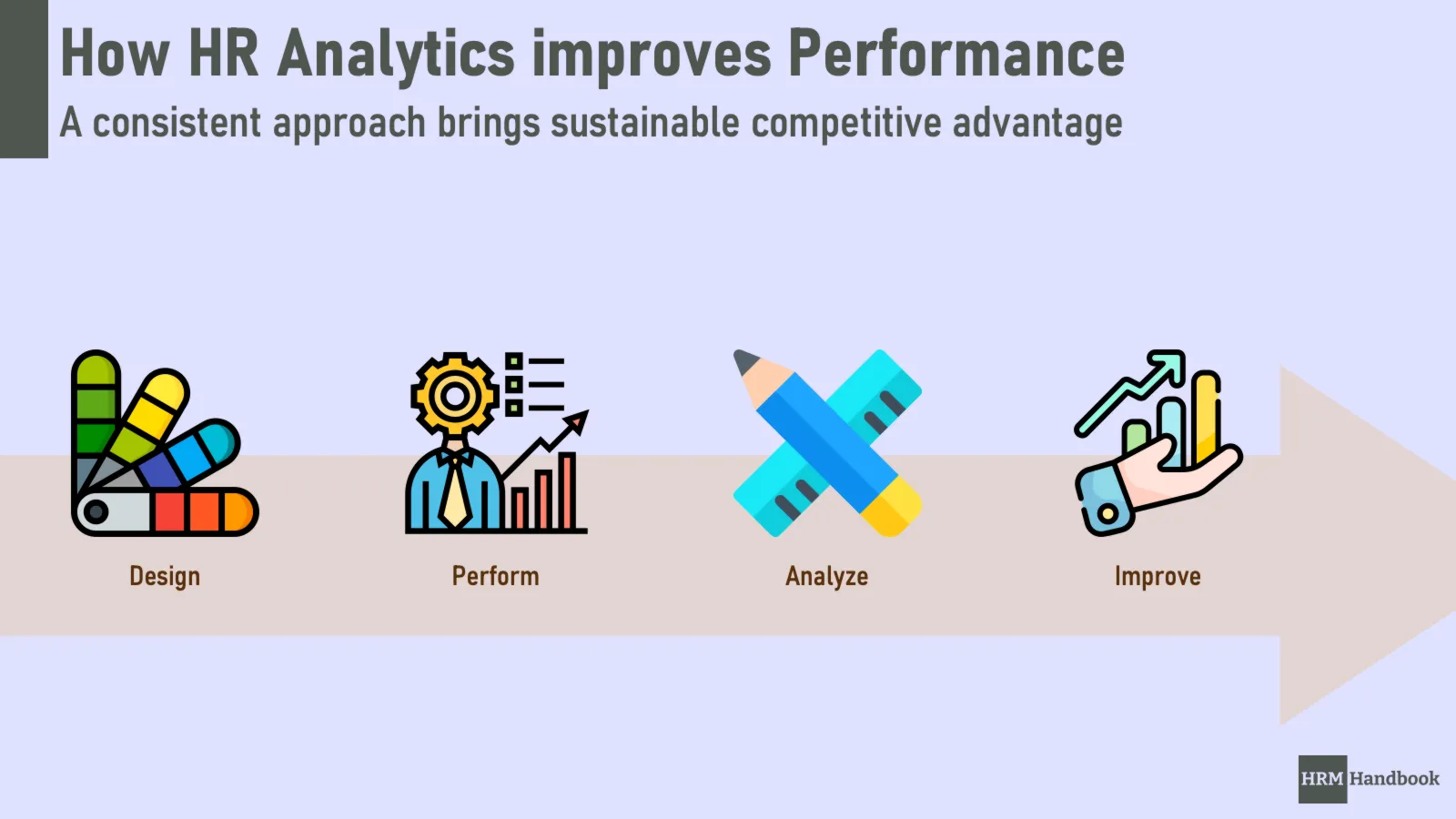 Successful change also needs a good understanding of the problem. This often cannot be done without detailed discussions in which different data and perspectives are presented. In the discussion, a common view of the problem is born and a team consensus is reached. However, this is not possible without good and quality data.
Fast, simple and efficient HR processes support employee engagement, employee satisfaction and targeted and effective human capital development. Regular performance measurement of the HR department is necessary so that HR staff know what weak areas to focus on. In addition, it is important to understand strengths as well, as a unique recruitment strategy can be built on these strengths.
Working well with employees is necessary for a good employee experience. Employees tend to evaluate the quality of the HR department's work based on transactional processes. They want to make sure that payroll is calculated and paid in perfect order. They want to get a quick response to every request. When all this works, they focus on the scope of services and benefits provided. To keep everything running smoothly, HR processes need to be measured and have clearly defined HR KPIs. The HR team needs to be clear about what goals they want to achieve and continually work to improve the team's performance.
Good analytics are also necessary to share best practices. If Human Resources wants to share some of its practices with others, it must deliver them including data that proves that it is not just a process in itself, but has an impact in increasing satisfaction and as a result, will be reflected in the overall company results.
No project can be organized and completed successfully today without good data and critical KPIs. Human Resources is no exception. Having a good plan, set up measurements at the beginning and at the end of the project is a sure way to success. Without measurement and data, no project knows which issues to focus on and which things need to be addressed in the organization. HR Analytics plays a vital role and having a good data analyst on the team is a must.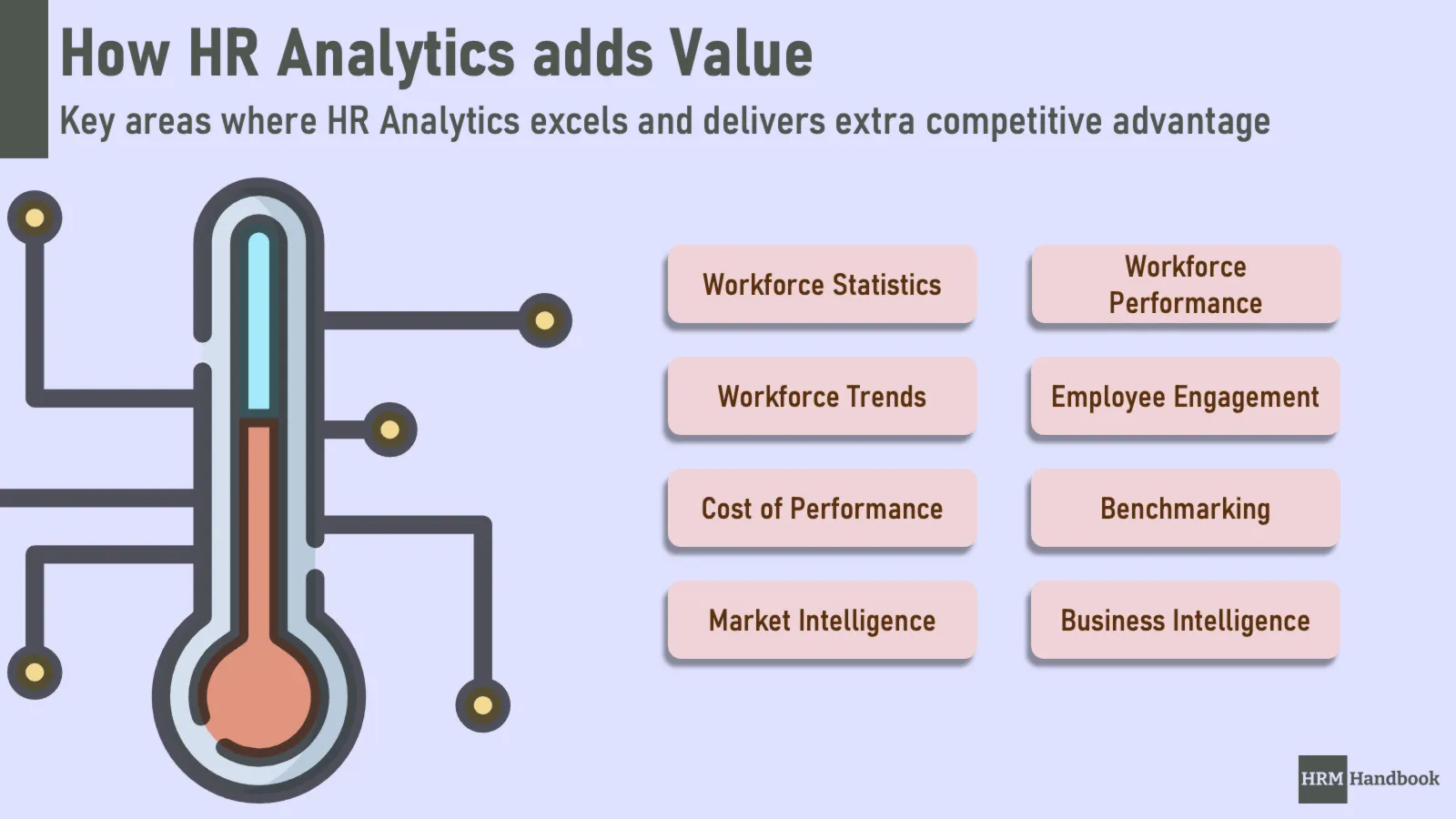 Even a credible Cost & Benefit analysis cannot do without good employee data. This is not only true for employee management projects, but it is a necessity for virtually all projects today as they all bring about changes that affect everyone in the company. It needs to include basic demographics, trends in the organization, and tie the whole thing to the project. It must identify the guidelines, the costs associated with implementation and estimate the benefits to the company as accurately as possible.
High and consistent performance is necessary for the success of the organization. It is only through high employee performance that a company can generate sufficient added value to invest in the future of the organisation. This performance must also be supported by innovation and creative thinking. Decision-making must be based on critical thinking and decision-making processes must be flexible and fast enough to ensure that the organisation does not lose its place in the market. HR Analytics reveals the weak points that prevent a company from improving its overall performance.
Key Stakeholders for People Analytics
Having good data and understanding the mood of the organization is not an end in itself. HR doesn't just need data and good analytics for its own sake. In particular, it needs to work for its key stakeholders who need accurate information about the state of human capital in the organization.
These key stakeholders are:
top management
line management
shareholders
company employees
human resources staff
external communities
regulators and other government agencies.
In particular, top management needs accurate information about the development of human capital in the company. They decide on major investments and employee satisfaction and engagement is a necessary condition for success in business.
Providing accurate and truthful information to the necessary extent to each group of stakeholders promotes the reputation of the HR department and creates the necessary precondition for wider recognition of the entire department in the company. It is always true that a good reputation must be earned.
The HR Leader must not underestimate any stakeholder group. They are all equally important, just different information is critical to them. The analyses that HR provides them must be tailored to each group so that they receive regular data that will help them in their insight into the work of HR staff and the company as a whole.
What does the company's leadership team expect from HR Analytics?
The Leadership Team must unconditionally understand employee sentiment and attitudes. In a Western company, employees are the main source of competitive advantage. They hold the key know-how, know the often very complex internal processes and procedures, have a perfect command of the company's products and are the engine of all major innovations. If something is wrong with their motivation, sooner or later it will have a major impact on profitability and productivity.
Human Resources must not be focused only internally or externally. It is often the case that they focus on one area in which they are performing excellently but ignore the others. HR Analytics must be able to link the external data available to the internal data. Then you can see at a glance which direction HR needs to focus in to increase employee satisfaction, engagement and productivity. The Leadership Team always expects a well-balanced approach that respects internal capabilities and with external opportunities.
The Leadership Team expects analytical, value-added HR reports. A clean excel spreadsheet will never generate interest like its correct and accurate interpretation with a story. It will immediately and offer opportunities to influence the given metrics and effect change in the desired direction.
HR Dashboard and Balanced Scorecard approach
Covering key internal customers with a plethora of detailed reports is not a solution that will be successful. Internal clients need to receive regular reports with a few key metrics and critical commentary from HR analysts. The best way to do this is with a simple HR Dashboard.
The HR Dashboard builds on the HR department's strategy. All HR strategic initiatives need to have defined KPIs that they track and targets for each project and initiative to achieve. The HR Dashboard accurately tracks the progress of work and the development of each measurement on a monthly or quarterly basis.
The HR Dashboard is also linked to Strategic Human Resource Management (SHRM). It clearly displays basic and critical trends in the organization, not only the number of employees, but also information on recruitment and departures from critical departments and positions.
However, it's not just a static snapshot, it's a report that provides information about trends in Human Resources and how they impact the company's financial results.
Tracking employee performance and how it changes over time is also an important section. It shows the different groups by performance, how they are evolving over time and planned actions. It also connects all this to compensation to see if the pay for performance policy set up is working.
Data as a solid foundation
A pivotal moment for People Analytics was the massive introduction of information technology into human resource management. The use of modern HRIS has made it possible for one system to become a universal source of truth. Digitized processes are easy to follow and dozens of different Microsoft Excel spreadsheets were able to leave the scene. Human Resources could create a solid foundation – a robust and unified HR Data Model.
It is no longer the case that Human Resources will always deliver a new set of reports and data that cannot be linked to previous reports. The usual argument that organizations evolve and change and therefore it is impossible to do the same report is no longer valid. Modern systems keep track of all changes and correctly transcribe them into reports.
A sustainable competitive advantage must be supported by good and reliable data. The company must strive for incremental improvements in labour productivity in order to continue to invest in innovation. And that includes innovation in human resource management.
Good analysis is behind most changes in a company. The right data determines whether a change will be successful or whether its implementation will fail. That's why the top team must have a good understanding of the whole problem before making critical decisions. They need to see the whole area from different perspectives and have an overview of all the costs, benefits and risks. HR Analytics provides a view through employees as important stakeholders in strategic decisions.
Data Model and Technology in Human Resources
The rapid advent of modern technology has changed the world of human resource management. It all started with a simple self service portal for employees and so far it ends with HR system in cloud. Implementing a new HRIS solution is no longer about high costs, you just need to pay bearable monthly fees according to the number of employees.
A good HRIS solution comes with the implementation of a robust HR Data Model. No longer is data maintained in various Microsoft Excel spreadsheets. All data about the entire Employee Lifecycle is in one system and is consistent.
Creating a good HR Data Model is a complex task, but modern HR systems can help with its design and implementation. It is a challenging task for the entire HR team, but the benefits are incalculable. Satisfaction with the data delivered will gradually increase throughout the organization, and over time, credibility will also increase. No one will challenge the delivered reports anymore and ask to check them and interpret them differently.
The existence of a good HR Data Model will also simplify the implementation of HR projects and initiatives as there is no need to create additional support systems to track critical HR metrics. Measurement is automated and performed by the HRIS.