Technology as HR Challenge
Human resources is a business function that can benefit from the current technological revolution. Not only can it benefit, it must make the most of it. The coronavirus crisis has taught us that in an emergency we can make a major technological leap from one day to the next. A rejected technology became a necessity without which work could not suddenly be done. Technology can serve the people of Human Resources, but it can also harm us if we let it take over. We must never forget that the foundation of a good HR Manager's job is personal interaction with internal and external customers.
What can new technologies bring to the world of human resource management? We can lose our dependence on a piece of paper. And finally, we should also get rid of paper. We can move our processes and practices to a modern cloud-based solution. We can abandon the old monolithic HRIS solutions and we can implement an intelligent set of online HR tools.
Emerging HR technologies can be a major productivity enhancement, but they also pose a serious risk to the business. New technologies carry a great risk of differentiating companies and losing innovative thinking. The lack of positive workplace conflict will sooner or later manifest itself in a slower pace of innovation.
As we move forward with the implementation of new HR tools, we will have to overcome many technological challenges along the way. Not only in the choice of the technology solution itself, but especially in data security, compliance with legislation in all countries where the company operates and trusting employees that the chosen solution fully protects them.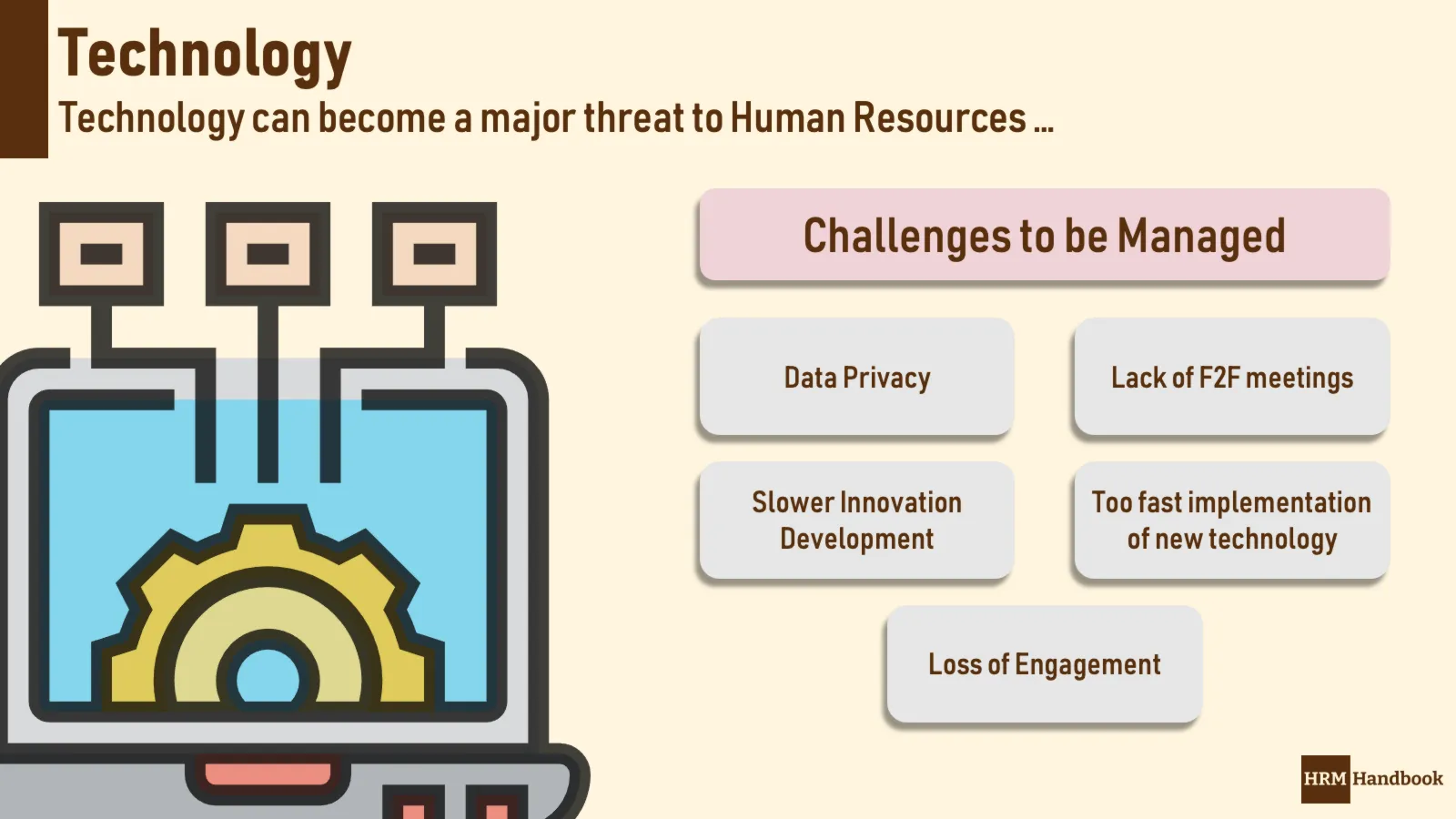 We can't imagine our lives without tablets, smartphones, laptops and other useful gadgets. Modern HR management cannot exist without the support of modern HR technology solutions. But when we talk about innovative HRIS, you no longer have to think about Oracle HR, PeopleSoft or SAP. The technology revolution has made our world of options to choose from richer, cheaper and more complex at the same time.
New integrated HR solutions have a bright future ahead of them, but they certainly don't all have it. We need to choose well who we trust with our data and how much we trust that it is protected and in good hands. Data security is going to become a very pressing area for Human Resources.
Digital Human Resources
Our managers can look forward to a new way of working with Human Resources. They can ask a question and they can get a quick answer. They can take full advantage of the potential of modern HR Analytics solutions. They can solve problems and they can collect useful data sets that look at the same problem from different angles. On the other hand, this creates a challenge for the HR department. They have to develop analytical competencies that have always been missing in the HR organization.
New and modern HR reporting is a challenge. Traditional turnover reports no longer interest anyone. Executives want to understand business trends. They want to know what the opportunities and threats are for the organization. The HR department needs to use predictive analytics to ensure that it delivers relevant information before it becomes a hot topic. HR leaders need to redefine HR metrics and reflect them in HR performance tables.
New HR technologies will change how HR leaders view productivity. They want HR to become a partner with a vision. Envisioning trends will become a core component of HR Performance Metrics (just think twice about the new HR KPIs). Leaders struggle with many uncertainties and need solid assurance from HR that the organization is managing employees effectively and sustainably.
HR can lose its dependence on internal IT and software solutions. It can move workforce data to the cloud and globalize it. This is both an opportunity and a challenge. On the other hand, it is also a risk. Data protection will become an integral part of HR's strategic agenda. We don't care much about privacy today. It's the IT department's job. Tomorrow it will be the job of IT and HR. We need to acquire new skills to become valuable partners in this important fight.
Technology in HR will also impact business process management. Predictive HR analytics will enable smoother and more focused strategic planning. Most HR innovations will be based on trends and data that we will begin to measure. However, this will greatly increase the importance of analytical competencies in HR. This will be a challenge because we have no prior experience with detailed data management in HR. But it will be the real beginning of the HR business intelligence story.
Another revolutionary change will occur in the way we communicate and collaborate with each other. It's not a change like the invention of the steam engine, but it is changing the way we work and communicate with others in the organization. Being online and having all your data with you is a significant change. It's also a challenge for HR departments as they have to implement new technologies and teach managers and employees how to take advantage of technology. They also have to upgrade the skills and competencies of HR staff.
HR must define clear rules on how to work with social media in the organization. They must also prepare basic guidelines for employees to follow. Leaks of sensitive data can happen quickly and the damage to the business can be significant. This is a new area for the human resources department and requires close collaboration with the IT security department.
Instant access to data poses a huge data protection and security challenge. The HR department must ensure that access rights to personal data are strictly controlled and that no one in the organisation has access to data that is not needed for the job. Social media represents an opportunity for HR, but also a risk.