The Most Significant Challenges for Human Resources
Today's world offers less security than it did in the past. This is true in general, but it also has implications for human resource management. For example, the notion of lifetime employment is now a mere fiction and no one is likely to get a gold watch on retirement. We have to come to terms with rapid and radical changes in our lives, which are also happening at the same time. Until a few years ago, we were enjoying one business transformation at a time, always waiting for the transformation project to be completed.
Today, we have such frequent changes that we have stopped naming strategic projects. From an employee perspective, the environment is not entirely welcoming and friendly. They see it as a purely for-profit business. Often they are not even aware of the incredible pressure from the competition. They just want to keep their jobs. They want to choose the moment to change careers and they want to make their own decisions. This is a challenging environment for recruiters. Human Resources teams face many challenges.
No success lasts forever and an organisation must maintain its resilience, willingness to grow, innovative spirit and competitive corporate culture. Most businesses lose potential as they grow. At some stage they start to stagnate and unnecessarily increase the complexity of their operations. Their market share is captured by more agile competitors. They stop innovating. And at some point it is too late to become agile again. All customers buy from competitors.
But in the last few decades, success has been a short-term victory. This puts pressure on human resources because they can help keep an organization in shape. Human Resources can deliver systems to help a company maintain an agile and competitive company culture and attract the best talent from the job market. The HR Manager will become a very commercially oriented employee who can recommend and implement the best way of doing things. HR will become a commercial function that needs to provoke and encourage others because its goal is to change behaviour in the company.
Human Resources has the power to combat the most common employee management issues. They are not only related to the HR department, the leadership team must be an integral part of the solution. After all, people don't work for the company, they usually work for their supervisor. And business agility always starts with the leader. However, the HR team can put in place people management practices that provide a comparative and competitive advantage.
We must learn to distinguish between HR problems and HR challenges. A problem is usually just a difficult issue that may be complex, but we have the resources and insight to solve it. It is different with a challenge because it is a combination of internal and external factors. We can minimise the impact, but there will always be some residual risk.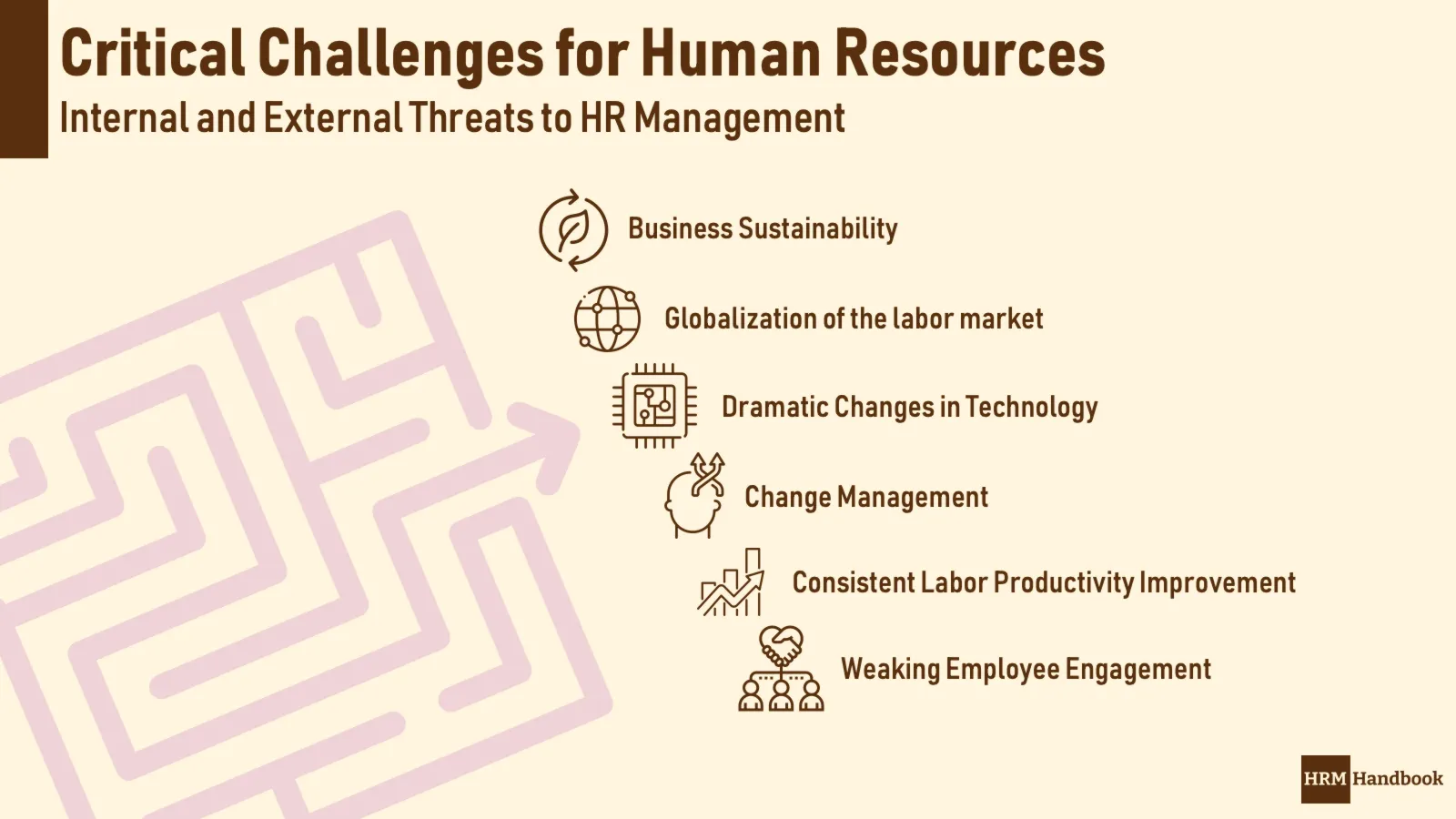 Finding common solutions to critical challenges will shape the future of HR. We can introduce new practices and procedures that will allow for company flexibility and provide a greater sense of security and certainty for employees. We will change strategic management processes to include the employee perspective. We can also focus on change management and better manage strategic transformations to reduce chaos. Reduce it because eliminating chaos completely is virtually impossible or would be hugely expensive or slow.
Human Resources will have to contend with many leadership challenges. A manager today is under tremendous pressure and we as employees expect them to always have the right answer. Only, no one can always have the best answer. HR leaders will need to discover ways to relieve some of the pressure.
A sustainable competitive business is the ultimate goal, but it cannot be achieved unless other HR Management challenges are resolved or mitigated. The HR leader plays a key role in designing and implementing approved mitigations.
Chapter Structure
This chapter begins with the challenge of long-term sustainability. The latter is the most difficult because most organizations lose the ability to innovate and compete during its duration. A company starts out as a small and highly agile fighter that must fight every day to stay afloat. However, as growth progresses, the sense of danger fades and the business becomes comfortable. The role of human resources is to provoke the entire firm to closely, constantly, and most importantly, consistently monitor the competition, respond to it, and succeed in maintaining the necessary competitive advantage. By the way, the vast majority of modern trends in human resource management are related to sustainability.
After the coronavirus crisis, we have learnt how fragile civilisation is. Global supply chains have collapsed and localisation (or deglobalisation) has become one way to diversify risk. Of course, this does not mean that globalisation is dead. It is still gaining momentum in human resources, and global labour mobility will be an important source of growth. Employees are moving abroad and multicultural management is on the rise. Most HR managers do not have the experience to deal with a global workforce; we are still using old ways of working. We don't use social media and other tools to increase remote team productivity.
Another challenge is closely related to remote teams. Again, the coronavirus crisis has taught us that we don't all have to share one big office, plus most of us have learned to work with new technologies on a regular basis and be online almost all day. Another revolution in remote working is being brought about by HR Big Data technologies and specialist independent HR solution providers. Solid HRIS solutions are on the decline. We simply have to accept that our ways of working and thinking about IT solutions need to change dramatically.
An aging workforce and change management are other closely related challenges for HR departments. We're always happy to hire fresh new college graduates, but we won't be finding young talent on the job market any time soon. Society is ageing; we will need to find ways to keep businesses innovative, agile and productive even with an older workforce. By the way, this is an excellent task for Human Resources because we are also aging and will be using the solutions we bring on a daily basis.
Managing and maintaining work productivity is becoming one of the key roles of Human Resources in the enterprise. It is also one of the most challenging roles for HR professionals. No manager wants to be under the pressure of having to improve departmental efficiency and remove critical bottlenecks in collaboration. Every HR Manager has to design a comprehensive employee performance management system. While this sounds simple, it is a challenging mission for HR managers and executives.
The last issue relates to employee engagement and loyalty in the organization. No one believes in lifelong employment anymore. The economy is changing too fast and no one can guarantee the longevity of a chosen job. This is a significant risk for long-term sustainability, as the company needs to maintain and develop its know-how. This means that it wants to keep employees, but on the other hand it cannot offer them full long-term job security. It must always seek a reasonable compromise. Having a great policy that successfully combines the need for employee retention and a sense of security is a real challenge in human resources.