What is Competitive HR Management Function?
You can spot a tremendous competitive Human Resources department as soon as you visit it and you can observe how team members collaborate and interact. You need just a few minutes watching the team in action. The people are not in a rush; they are confident in what they are doing. The walls are covered with tons of pictures, graphs, photos. Also, you can notice that the team is a part of different communities and proactively helping others in need.
Also, you can notice several recognitions being awarded, but they are not in a center. All employees are smiling, discussing, and willing to collaborate. They are not just willing; they actually do. This is a Human Resources department that simply works.
Employees of Human Resources understand how the organization generates profits. They know what value-added it provides to clients and customers. Also, they are proud of the company's business results. They praise clients. They speak to them to understand what could make their lives easier. They care about the business because they work for a successful company.
They follow a simple Human Resources Strategy that was approved and communicated to everyone in the organization. They also follow the developed through a high-level HR Scorecard. They run projects that have a positive return on investment. HR Business Partners encourage everyone to learn and use new tools, processes, and procedures. In general, they like to learn and explore.
They have honest relationships with others in the business, and they build useful and strong business friendships.
On the other hand, they understand that the customer does not pay for running a great Human Resources function. So, they keep the cost budget as low as possible. They invest in initiatives that turn into profits in the future.
What does a competitive HR Management Function differently?
First, it clearly understands the business strategy and key objectives and embeds the business's vision into its projects and initiatives. Also, customer centricity is an essential part of DNA.
They do not talk about the customer; they keep customers in mind when designing new processes and procedures.
Competitive Human Resources acts fast. Time to market is vital as the first one usually grabs the largest market share. The function always works fast because it is an advocate of simplicity. It does not want to stop changes to happen; it actively supports them. HR Business Partners keep eyes open, and they inspire internal clients with best practices and approaches.
Moreover, it behaves strategically. It does not choose small niche issues and problems. It solves big issues that cost the business a lot. It does agree with the leadership team, which topics it will take over as the owner, and it will solve them. It does not wait until it is called to be responsible. It is proactive because it cares about others. Also, it comes early and with its homework done as it has useful statistics, which areas will make the organization more profitable.
It is aware of all internal and external HR challenges. It has a strategic plan that mitigates risks and improves the productivity of the organization. It prefers a constant change versus the status quo. It dares to make a bold decision.
It has a "Yes, we can!" attitude. It invests limited resources into research and development to improve the employee life cycle, engagement, and work/life balance. It plays the role of the pioneer, who explores promising opportunities and inspires others in trying new stuff.
In difficult times, it stays positive, and it helps others to re-gain faith in a better future again. They understand how people react, and it fights with the fear spreading among teams, floors, and corridors. Being positive and playing its role helps the business to overcome all obstacles.
Making the business successful. It makes Human Resources a winning team too.
A competitive advantage is a rock-solid foundation of any business. As a businessman, you have to offer something extra to your clients. Some features that others do not have on their menus.
In such a case, you can win the market share because your products are unique. It is the same with Human Resources. A competitive function offers excellent services in a unique mix. It is packed in a way that works for internal customers of Human Resources.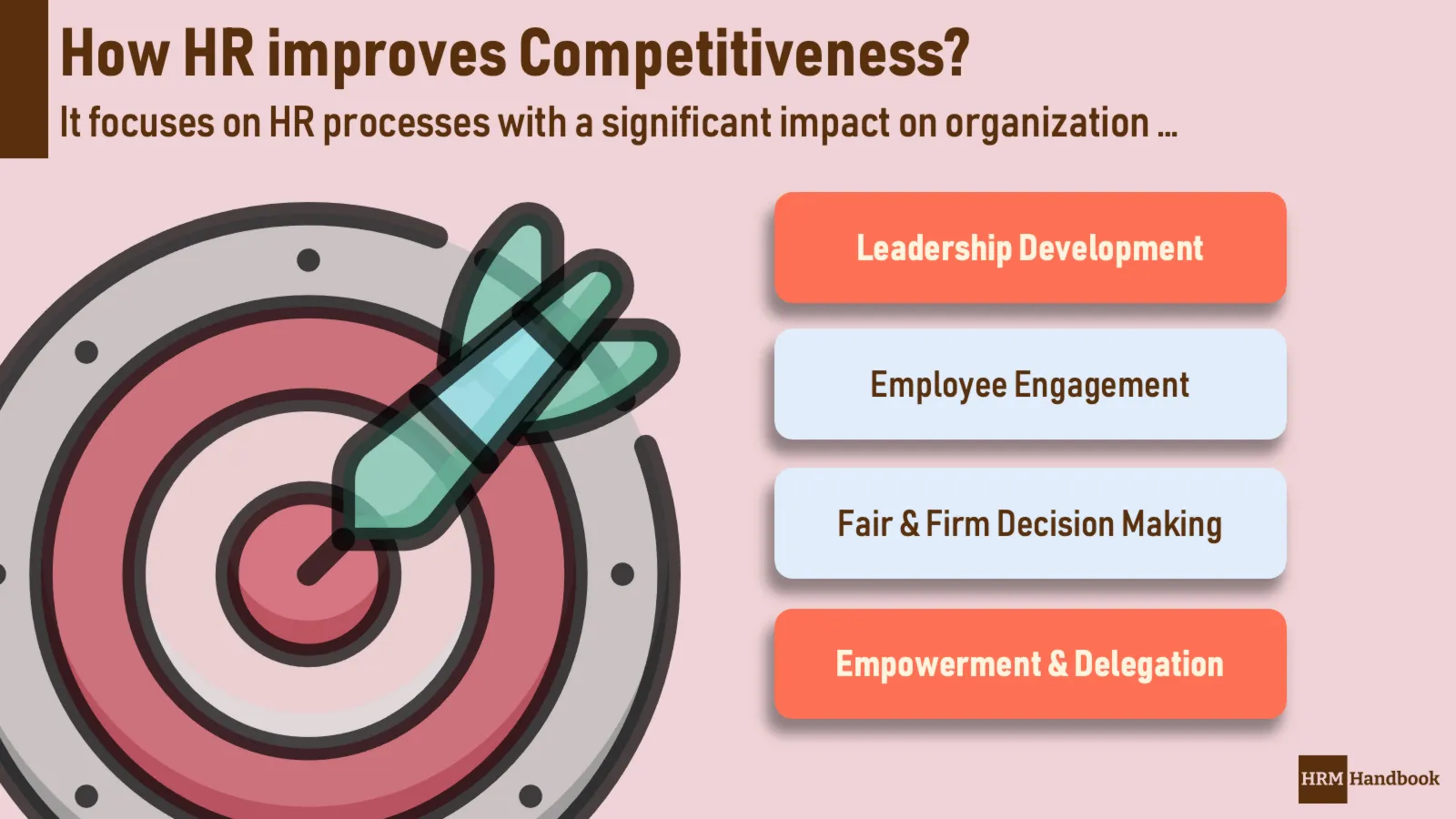 There is no owner of the corporate culture. However, Human Resources acts as the owner because it is a competitive advantage nobody can copy. Products, processes, procedures, and designs can be reproduced easily. However, how your employees perform, work, and think, no one can copy it. It is the ultimate competitive advantage.
A competitive HR department takes on marketing practices and approaches. It understands how social media work. It influences critical external and internal audiences, and it spreads positive messages among them. Also, it cultivates the Employer Value Proposition (EVP) so that the organization attracts the best talents.
The last point is that such a department understands that improvements do not happen just by writing documents and procedures. It selects critical areas strategically, designs a simple process, writes a short procedure, and makes sure that everyone follows it. HR Professionals just allow the business to operate better. Such an HR department likes results, not PowerPoint presentations.
Making Great Returns on Investment (HR ROI) in People and HR.
A competitive HR function makes financially intelligent decisions. It makes a sensible business case scenario before it puts any proposal on the table.
All leaders appreciate numbers and want to be informed about the financial impact of a decision before making a decision. In an excellent HR function, the HR leader comes with a complete proposal describing a competitive landscape, detailed SWOT analysis, several options, the recommendation, and financial analysis.
Also, it understands how important is the investment into a sustainable future of the organization. It invests in leadership and management skills development. It supports its leaders in selecting and developing successors.
It drives a voluntary turnover down by providing help and guidance to managers. As always, people do not leave jobs; they leave their managers. Usually, companies do underestimate the cost of turnover. A competitive HR department explains how much it costs the organization. It facilitates workshops on how to decrease turnover and how employees should be managed, led, and inspired to stay engaged with the business.
On the other hand, the HR department monitors the workforce structure. It does not allow to create artificial jobs, adding extra management layers, and it does not tolerate a weak performance at any level of the organization.
Choosing and targeting pain spots to improve a strategic position.
Each organization suffers from its internal inefficiencies, however it has to have a clarity about its strategic position. The processes are not perfect because they are usually developed in a way that it works. Also, employees typically do not work all the time; they are social creatures who need interactions with others. A lot of time is lost because we have to wait for the outcome of others.
At least, Human Resources invests in quality of management and leadership. It ensures that mgers and leaders undergo specialized training courses to improve their management and leadership skills.
In some cases, it agrees with the senior leadership team to introduce a change in an organization. In some cases, it is better to act quickly because a person's development would take time. And time is expensive.
It oversees the organizational structure to make it as lean as possible. It stops managers when they want to solve the issue just by adding extra personnel. It cares about the steps required to make a final decision. It monitors how employees spend time and what value-added is created by the job position.
It also cares about what kind of goals and objectives are provided to employees. It checks the fairness of how is the required effort distributed among people in the unit. And, how the organization meets the internal equity requirements.
Acting as the internal police department is one of the roles of Human Resources. It is not the best role, but a competitive Human Resources department plays it well.
Learning and developing the team as challenges come.
We start to learn when we are born, and we stop learning when we die. Nature programmed us to absorb experiences and learn from them. Our organizations are like Nature.
A great team consistently reflects the latest development and learns how to solve things better next time. It is not just a group of smart individuals; they are one team and speak the same language.
They promote a learning organization concept, and they are role models. They can demonstrate what new approaches they learn and how they apply them consistently across the organization.